Published on December 21, 2020
During the holiday season, spikes in health-related illnesses and hospital admissions are all too common. Research attributes this to a variety of factors, including weather-related falls, holiday drinking and overeating, seasonal flu, avoidance of care, and emotional stress.

How can we flag at-risk individuals to predict, and possibly prevent, health crises at this time of year? To illustrate the power of social determinants of health (SDoH) data analytics, let's examine the risks of two demographically similar individuals: The Grinch and Santa Claus.
On the surface, these two individuals present very different risk profiles based on their physical and genetic conditions.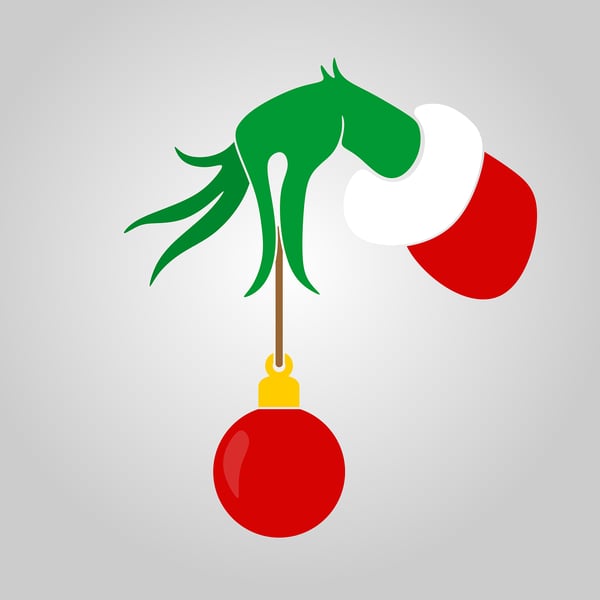 The Grinch is a 53-year-old "creature," described as avocado-green and sparsely hairy with a snub-nose. Despite his thin and gaunt limbs and pinched, cat-like face, The Grinch carries excessive pot-belly weight in his abdomen, which is often linked to the development of chronic cardiac disease and Type II diabetes. An underlying genetic condition – a heart that is "two-sizes too small" – further adds to his risk.
"You're a mean one, Mr. Grinch…"

– Albert Hague, Theodor S. Geisel
Santa Claus, a "jolly old elf" (although his elf identity is the subject of debate), is considerably older and shorter than The Grinch, with a Body Mass Index that falls into the category of obese. His rosy red cheeks and nose might also indicate a propensity for over-exuberant holiday imbibing. Santa's extensive workload and commute during the holiday season also makes drinking and driving a concern.
"He was chubby and plump, a right jolly old elf…"

– Clement Clarke Moore
Given their physical and genetic profiles, it would seem that Santa would have a higher risk of a health-related illness, accident, or decline. However, a look at the deeper SDoH risks – behavioral, social, economic and environmental – for both individuals paints a more nuanced picture.
Economically, Santa Claus is a prosperous industrialist. Living near a factory (one of the world's largest) does present some environmental health risks, however. Thanks to Rudolph the Red-Nosed Reindeer, Santa has good access to transportation resources. While not wealthy, The Grinch lives within his economic means, in a simple cave. His proximity to nearby Whoville gives him adequate access to groceries and amenities.

It is in the area of social and behavioral risk factors, however, that The Grinch and Santa really diverge.

As Carrot Health has noted previously, loneliness and social isolation are major factors in predicting health risks. Our look at Medicare Advantage beneficiaries in a Midwest market showed that emergency department (ED) visits increased by 121% for socially isolated seniors during the 2018 Thanksgiving holiday. Generally, socially isolated individuals account for 25% higher inpatient costs and 22% higher ED utilization.

The Grinch's disposition is notably cynical and mean-tempered. Prone to depression, he lives alone and isolates himself from social connection and community. In particular, he hates Christmas and makes frequent complaints about excessive noise and celebration.

Although Santa lives in an extremely rural area, which might otherwise be a risk factor for social isolation, his marriage to Mrs. Claus and his thriving community of elf "helpers" provides a great deal of social support. Santa dedicates himself to bringing happiness to good little children over Christmas, a very fulfilling engagement that he enjoys year after year.
Despite his younger age and better physical condition, The Grinch has significant health risks over the holidays due to social isolation. Interventions designed to lessen his health risk should take this particular factor into account. Fortunately, The Grinch has a dog, which lessens his loneliness and forces him to engage in some physical activity when he takes his pet for a walk (dog ownership is correlated with better health).

So, who's less risky – Santa or The Grinch? Since Carrot Health doesn't have detailed health and demographic data on either individual, we can only speculate. But our money would be on Santa. Despite his physical and behavioral issues, Santa's strong social support network bodes well for his future. As the saying goes, it takes a village – in this case, a village of elves.

In all seriousness, 2020 has been a year of social isolation because of quarantining and social distancing measures. Health risks are likely higher this holiday season as a result. For those who are physically alone over the holidays or separated from loved ones, we urge you to be mindful of this risk in yourself and others. With the arrival of several new vaccines, we can all look forward to a better year ahead, with much less social isolation.

Happy Holidays from everyone at Carrot Health, and best wishes for a healthy New Year.